Overstretched general practitioner situation has consequences for patients – review of supervisory experiences
Report by the Norwegian Board of Health Supervision 3/2022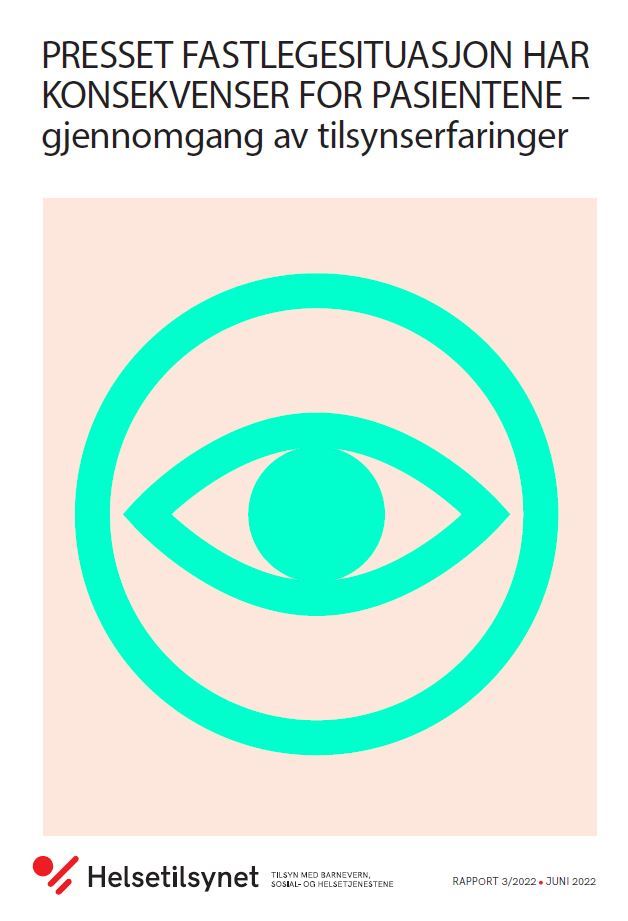 The Norwegian general practitioner scheme (Fastlegeordningen) has long been under pressure and the Norwegian Directorate of Health describes the situation as serious. As of the first quarter of 2022, 153,000 people in Norway were on a waiting list to register with a general practitioner (GP). These people have the right to a GP, a right that, in reality, is not being fulfilled. The Norwegian Board of Health Supervision considers this to be a serious issue.
Following close dialogue with the county governors regarding recent developments, the Norwegian Board of Health Supervision made the decision to review recent supervisory experiences relating to GP services and emergency wards in the municipalities. We also met with the User Council at the Norwegian Board of Health Supervision to receive input from patient, user and next of kin organisations.
On the whole, the review demonstrates that the GP scheme is under pressure across the country. A major strain has been placed on the ability and opportunities that the municipalities have to provide adequate GP services.

The Norwegian Board of Health Supervision is particularly concerned about patients who are fundamentally vulnerable, who have complex health problems and who require regular follow-up from a GP. Elderly multimorbid patients lacking access to a regular GP arrangement; delayed cancer diagnoses; and a failure to provide follow-up to patients with serious illnesses following treatment by specialist health services are all examples of failures in healthcare that have already occurred. Following treatment in the specialist health service, or after contact with an emergency ward, it is the GP who usually provides follow-up when this is required. The report outlines a number of challenges associated with this type of work, particularly when patients are on a waiting list for a GP. The Norwegian Board of Health Supervision considers this to be an ongoing risk and, given the development we are seeing, there is reason to assume that similar failures will repeat themselves.