It is all about life. Summary of countrywide supervision in 2016 of municipal health and social services for people with mental disabilities
Summary of Report of the Norwegian Board of Health Supervision 4/2017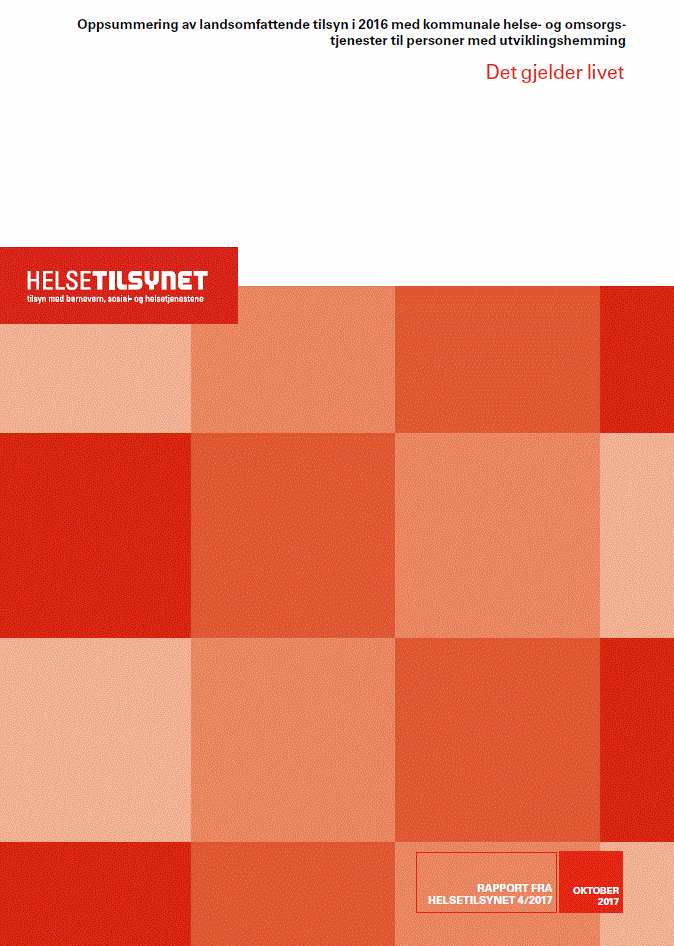 In 2016, the Offices of the County Governors carried out countrywide supervision of municipal health and social services for people with mental disabilities in 57 municipalities. No breaches of the legislation were detected in 12 municipalities, but service errors were found in 45 municipalities, some of them serious. More than 200 clients were interviewed, and about 70 representatives for clients who could not relate their experiences themselves were interviewed.
The Offices of the County Governors found the following: The service personal assistance was inadequate in many places, and was not well adapted to the needs of the individual. The staff often had inadequate skills, and there was no plan for training. Provision of services was not always systematic, and documentation was inadequate and scattered. The staff were not always fully informed about the clients they should help, and about the tasks they should carry out. In many places, there was little trace of client participation, and relatives and guardians were often not well enough informed in order to take care of the clients' interests.
With regard to health services: In many municipalities, access to information about the clients' health status was difficult, and the staff had inadequate knowledge about the clients' health status, and what they should observe or document if there were changes. In several municipalities, errors in administration of medication were also detected, for example unclear responsibility and poor control of administration. Some of the staff who prepared and administered medication had inadequate qualifications and experience.
The Offices of the County Governors will follow up the municipalities where breaches of the legislation were detected.
The Norwegian Board of Health Supervision encourages the management in the municipalities where supervision has not taken place to use the experience gained from supervision, presented in the individual reports and in the summary report, as a basis to assess whether their own practice and management is in accordance with the statutory requirements.