Summary of the findings from countrywide supervision in 2017–2018 of services for people with both a mental health disorder and an addiction problem – or a possible concurrent addiction disorder
Summary of Report of the Norwegian Board of Health Supervision 7/2019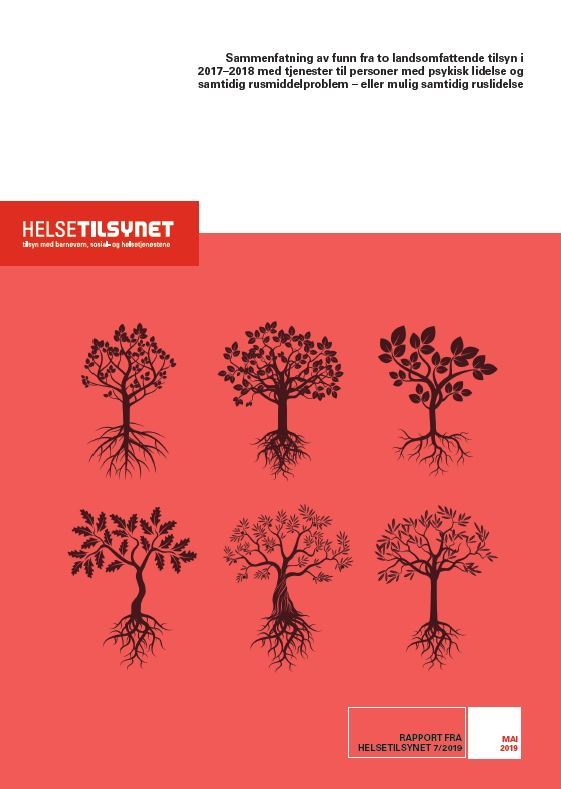 In 2017–2018, the Norwegian Board of Health Supervision carried out countrywide supervision of these services. All the Offices of the County Governors were to be involved in this supervision, which should include both hospital services, municipal health and care services, and social services. Cooperation between primary health services and hospital services was not part of supervision. This report provides a summary of the most important findings.
The Offices of the County Governors found breaches of the legislation and inadequacies in the services in two-thirds of the municipalities, and in 18 of 20 out-patient clinics in community mental health care centres that they investigated.
Common findings from supervision were lack of investigation and examination of patients and clients, lack of planning, and undesired variation in the services provided and in follow-up of clients. Inadequacies were found in both hospital services and primary health services. This related to allocation of responsibility both within the services and between different services.
Many clients require both primary health services and treatment in a hospital. Patients and clients should not be given responsibility for coordinating services they receive in hospital and in the community, or for ensuring that their problems are seen in relation to each other.
The findings of supervision show serious weaknesses in management and leadership both in the municipalities and in the health trusts. Management had not ensured provision of high quality services for all clients and patients.
All services in which inadequacies were detected shall be followed up by the Offices of the County Governors.