The perspective of patients and relatives when a serious adverse event has occurred. Examples and experience gained from assessing serious adverse events in 2018
Summary of Report of the Norwegian Board of Health Supervision 4/2019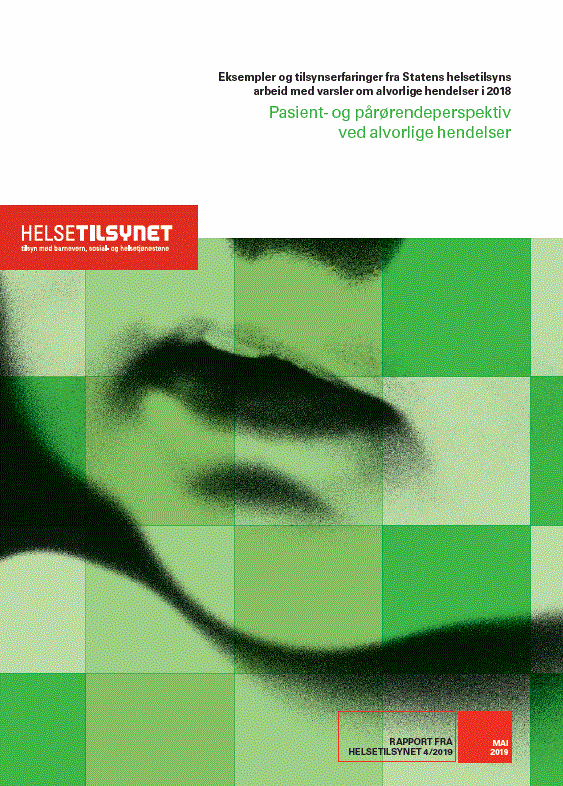 Patients and relatives are the people who are most affected when a serious adverse event occurs in health and care services. In the Norwegian Board of Health Supervision, we often meet relatives who have suffered a painful loss, and who are deeply affected. Relatives react differently. Some are angry and in despair about the health service and the health personnel who were involved. They often have relevant and useful information that supplements the description we have obtained from the health personnel and leaders. They help us to gain a complete picture of what has happened, and this provides us with a sound basis for assessing whether the patient received adequate health care.
The hospital has a statutory duty to inform patients and relatives about a serious event, and to follow them up afterwards. The hospital also has a duty to investigate the events in order to find out what went wrong and why. Patients and relatives have the right to be informed about what the hospital does to reduce the risk of the same thing happening again.
The aim of all supervision of health and care services is to improve both the quality of the services and patient safety. Our work is primarily aimed at improving patient safety. Therefore it is most effective for us to focus on changes that the hospital managers can and must make in order to reduce the risk of adverse events occurring.
Professionals in the health and care services are an important target group for this report. We hope that the report shall lead to reflection and debate about patient safety, risk reduction and the involvement of relatives.