«Then one day, you're just standing there all alone»
Summary of the 2019 nationwide audit of aftercare and cooperation between the child welfare service and the Norwegian Labour and Welfare Administration (NAV)
Report of the Norwegian Board of Health Supervision 2/2020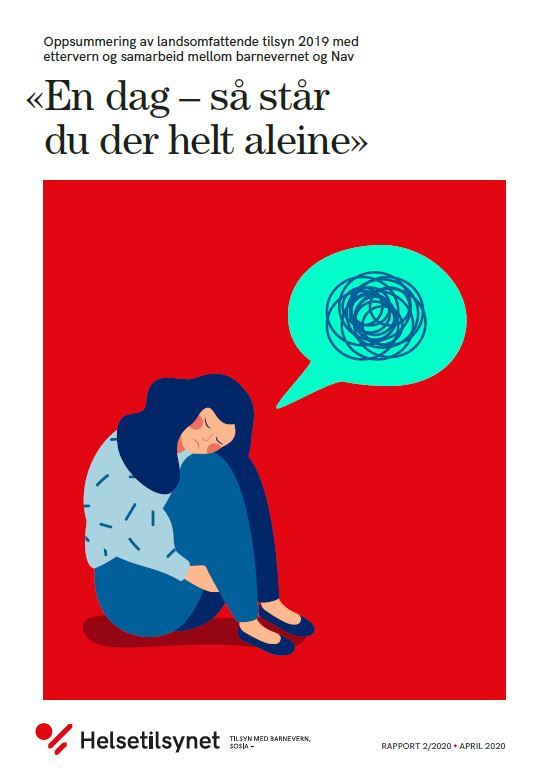 During 2019, the county governors of Norway audited the work of the child welfare service relating to aftercare and the cooperation between the child welfare service and NAV concerning young people in need of support in their transition to independent adulthood. Investigations were carried out to determine whether the services were providing adequate and appropriate information, whether provision was being made for user participation, and whether the review and assessment of cases was satisfactory.
The county governors conducted 33 audits. In total, child welfare services in 49 municipalities and 37 NAV offces were audited. Regulatory breaches were identifed in 22 of these audits. The breaches concerned either one or both services.
Many of the breaches related to the cooperation between the services. The breaches concerned both a lack of cooperation in individual cases and inadequate management and facilitation of cooperation in general.
The county governors identifed regulatory breaches regarding how the child welfare service prepares, assesses the need for and follows up and concludes aftercare. The county governors also found that information concerning aftercare given to those who have received voluntary relief measures was often inadequate.
Regulatory breaches were also identifed within the area of social services concerning all sub-areas covered by the audit. Many NAV offces are failing to review the needs of young people to ensure they receive appropriate social services, nor are they establishing adequate provision for young people to participate in reviews of their own circumstances and needs.
Where regulatory breaches have been identifed, the municipality concerned is required to implement measures to rectify the defciencies, and the relevant county governor will monitor the measures implemented by the municipality to ensure they are completed by set deadlines. Audits cannot be concluded until all identifed defciencies have been remedied.