The coronavirus pandemic as experienced by persons with intellectual disabilities
Patient and user experiences of services during the coronavirus pandemic 2020-2021. Joint project by the Norwegian Board of Health Supervision's User Council and the Norwegian Board of Health Supervision
Report by the Norwegian Board of Health Supervision 4/2021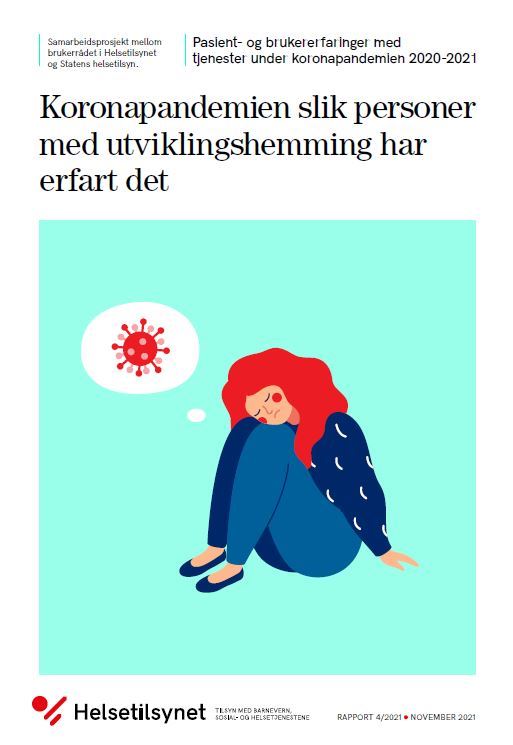 Like everyone else, people with intellectual disabilities have had different experiences during the coronavirus pandemic. On behalf of the Norwegian Board of Health Supervision, Oslo Metropolitan University has interviewed 33 people with intellectual disabilities about their experiences of the coronavirus pandemic and how infection control measures have affected their everyday lives. The respondents are aged between 18 and 66, come from across the country and have an approximately equal distribution between men and women. Most respondents (42.6%) live in some form of co-located housing or shared housing, where they have their own apartment and access to communal areas and staff 24 hours a day. The second most frequent form of housing is an apartment in a housing association or a family home. Very few of them live in owner-occupied apartments or houses.
In many cases, residents have been subject to stricter infection control measures linked to their own housing than most other people. We came across examples where some people had been prevented from going to work by the staff because of a fear that they could become infected and bring their infection back to the other residents. Some people have experienced closed workplaces and day centres and have not been offered organised leisure activities. For long periods of time, they have found themselves very isolated and incarcerated.
The lack of social contact and a normal everyday life has given rise to strong emotional responses. This is the most serious finding in the survey, and the services have a responsibility to monitor the situation particularly closely by assessing whether the individual service recipient is showing signs of mental strain and take action if necessary.
Many of the respondents showed a strong engagement in social issues and politics, and had recommendations as regards what they thought the authorities should do in the event of other pandemics in the future. For example, they would like to see better arrangements made for social activities suitable for people with disabilities.
As many as one third of the respondents in the survey believe they do not know enough about either the virus or the pandemic. Many found the information given in the media difficult to understand and called for more adapted information.

The survey supports the overall picture that the Norwegian Board of Health Supervision has obtained via the user surveys that we conducted earlier in the pandemic. People with intellectual disabilities are a vulnerable group where loss of contact with work colleagues, friends, services, etc. can have a greater adverse effect on health and quality of life than for others in the population. The results of this study indicate that this has been the case during the pandemic.