Risk assessment of services for people with concurrent drug dependence and mental health disorders
Summary of Report of the Norwegian Board of Health Supervision 3/2016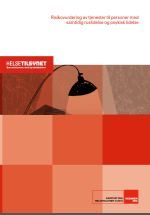 People with concurrent drug dependence and mental health disorders are a vulnerable group of people who need a range of different services. Deficiencies in one or several areas can have very serious consequences. In 2015, the Norwegian Board of Health Supervision carried out a risk assessment of services for these people. The results – the risk situation seen from the point of view of the professionals – are described in this report.
The risk assessment showed that both hospital services and municipal health and social services for people with concurrent drug dependence and mental health disorders can be inadequate.
The three most serious problems in relation to risk are:
Lack of co-ordination of treatment provided by mental health services, and interdisciplinary specialized treatment for drug dependence.
The accommodation that clients receive and the services that are provided in their home, are not always adapted to their needs.
Inadequate examination, assessment and diagnosis (including somatic disorders, mental health disorders and drug dependence).
The Norwegian Board of Health Supervision will use the results of the risk assessment as the basis for choosing the theme for countrywide supervision in 2017 and 2018. We also wish leaders in the different services to use this report, and the results that are presented in the report, actively to assess their own practice in the areas that have been identified as particularly leading to risk.