Monitor and follow up the pandemic – sources of information and knowledge. Report no. 2
Report of the Norwegian Board of Health Supervision 5/2020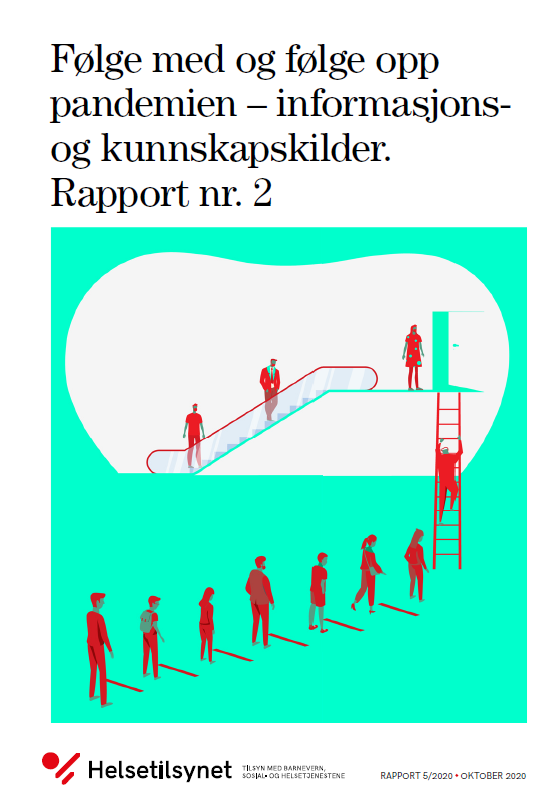 In spring 2020, a report was prepared on knowledge sources and systematised information concerning how services have been affected by the coronavirus pandemic and its handling. This updated edition describes results and assessments within the following areas; the warning system for serious incidents in the health and care services, municipal health and care services, somatic specialist health services and mental health care (children and adolescents, adults), as well as substance abuse treatment in the specialist health service.
Based on the reviewed data sources, we have identified the following risk areas:
Within the primary health care service, there is still some reduced availability of health centres and the school health service. Some vaccines are lagging behind and subject to delays. Many disabled people have reduced or no access to services on which they depend. Many municipalities are vulnerable as regards the management of major outbreaks of infection within the home health care service and in nursing homes.
When it comes to the somatic specialist health services and mental health care, there has been an increase in both waiting times and the number of deadline breaches in certain areas of the services, but there are variations both between and within the regions. There may therefore be a risk that patients who are seriously ill will have to wait longer before receiving essential health care.
There was substantial rise in the use of e-consultations at the start of the pandemic, but the use of such consultations has gradually declined since then. The increase was both necessary and desirable. Such a rapid and substantial increase can challenge patient safety because e-consultations are not as well-suited to every situation.